German Centres for Research and Innovation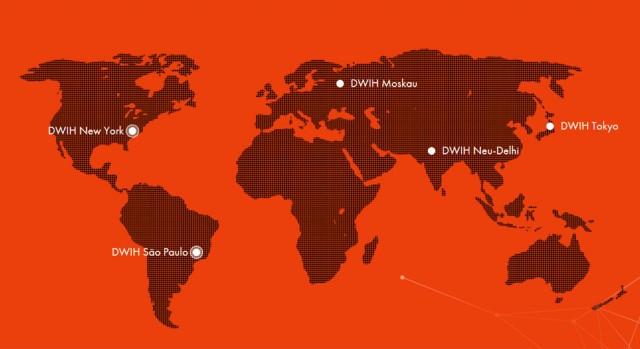 The German Centres for Research and Innovation (DWIH) raise global awareness of Germany as a research and technology location. Our brand 'Germany – Land of Ideas' gives the DWIH a uniform bracket with a high recognition value.
The German Centres for Research and Innovation (DWIH) and the German Science Center (DWZ) provide a platform for the German research and innovation landscape, showcasing the accomplishments of German science, research, and research-based companies, and promoting collaboration with Germany and innovative German organizations. The idea is to present German scientific and research organizations abroad under the banner of the DWIHs.
The German Centres for Research and Innovation and the German Science Center are part of the German Federal Government's internationalization strategy and the Federal Foreign Office's Research and Academic Relations Initiative. The Federal Foreign Office is implementing this project in cooperation with the Federal Ministry of Education and Research and in close collaboration with the Alliance of German Science Organizations, which includes the Alexander von Humboldt Foundation, Fraunhofer-Gesellschaft, German Academic Exchange Service (DAAD), German Council of Science and Humanities (WR), German National Academy of Sciences Leopoldina, German Rectors' Conference (HRK), German Research Foundation (DFG), Helmholtz Association, Leibniz Association, and Max-Planck-Gesellschaft, as well as the Association of German Chambers of Industry and Commerce (DIHK).
The houses were created to:
Promote Germany as a research location
Provide a forum for international dialogue and scientific exchange
Provide support and services (advise international researchers; organize educational events; facilitate collaboration)
New York, São Paulo, New Delhi, Tokyo, Moscow, and Cairo – at all these locations the DWIH offer German science and research organisations abroad joint representation under a shared umbrella. Since 2009, the German Federal Foreign Office has promoted the expansion of these institutions with the aim of strengthening Germany's international visibility as an innovative location, and intensifying the cooperation between German research facilities and their peers and counterparts abroad.
The DWIH team up with partners from science and research companies to organise conferences, workshops, lectures, and delegation trips, and use our 'Germany – Land of Ideas' brand in their public appearances and communications. This shared branding puts the facilities abroad in a consistent context and heightens their recognition value.