InREAKT – emergency management in public transport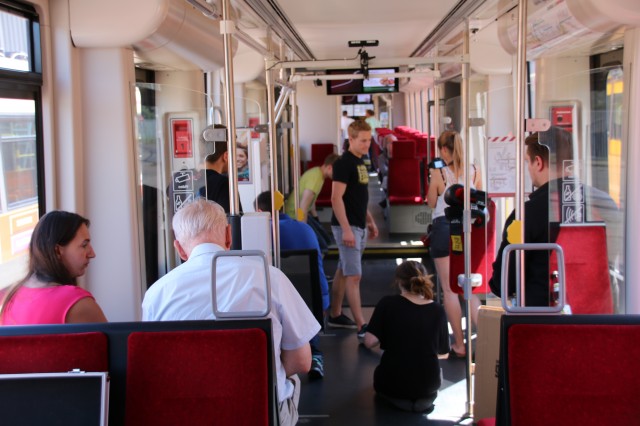 An interdisciplinary IT-assisted system improves management of emergencies in public transport.
Violence, property damage, and vandalism can make passengers feel uncomfortable on public transport or avoid it altogether, especially at night. And employees of transport companies can become involved in situations that compromise their safety or entail medical emergencies. Effective emergency management is therefore very important to strengthen people's trust in public transport. The InREAKT system pursues this aim.
The core idea is an IT-supported integrated help reaction chain that consists of the following elements: identifying a person in need of help, reporting a situation that has been identified, notifying reaction forces, and intervening at the event location. The project builds entirely on digital technology. For example, optical sensors are used to identify the situation, a software-based event management system makes recommendation for action and supports the transport company's control centre, and a specially programmed employee app is employed. All of the technical work was supported by interdisciplinary social-science research to guarantee that passengers accept it.
By building integrative help reaction chains, InREAKT ensures improved emergency management in public transport and enhances people's feeling of security. The solution instils trust in passengers and staff, thus strengthening public transport.
Deutscher Mobilitätspreis 2017
STUVA – Research Association for Tunnels and Transportation Facilities, VBK, CologneVerkehrsbetriebe Karlsruhe GmbHINIT Innovative Informatikanwendungen in Transport-, Verkehrs- und Leitsystemen GmbH, KarlsruheFraunhofer IPK – Institute for Production Systems and Design Technology, BerlinInfokom – Informations- und Kommunikationsgesellschaft mbH, Neubrandenburg Ruprecht Karls University Heidelberg, Psychological Institute
Mathias-Brüggen-Straße 41
50827 Cologne
Nordrhein-Westfalen