Success Story: 'Georgia Special':
A Taste of Georgia
With the loading of the video data connections to Youtube / Google are established. You can find more information
here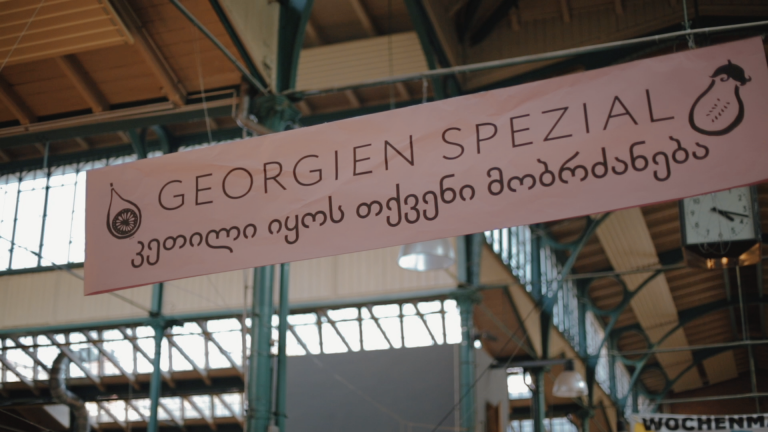 The posters on the heavy glass doors of the market hall glow from afar in warm, rich colours on this October day: silhouettes of grapes, walnuts, eggplants and pomegranates on an orange backdrop. Picturesque, intricately interwoven lettering adorns the welcome banners hung from the high ceiling of the historic market hall. Chefs and winegrowers are still busy setting up their stands, decorating them with wine amphorae and drinking horns, flowers and colourful tablecloths. Fragrant dishes with mellifluous names like Khinkali, Satsivi and Khachapuri are being prepared.
The evening is officially opened with the sounding of a gong at 5 pm: Streetfood Thursday, the weekly spectacle at Markthalle Neun in Berlin-Kreuzberg, where thousands of visitors flock to the market hall to taste culinary delicacies from all over the world. This evening, the spotlight will be on a region that is still uncharted territory for most visitors: Georgia.
What do we here in Germany know about this country of the Caucasus, situated between Europe and Asia? Where exactly is it, what does it look like there, what language do Georgians speak, what are their traditions, and what do they like to eat and drink?
Upon the initiative of the Foreign Office and organized by 'Germany – Land of Ideas', a Georgian delegation has travelled to Berlin to provide answers. They have brought with them wines, spices and food – the scents and tastes of a country nestled between the mountains of the Caucasus and the Black Sea. Their mission: to quite literally whet the Germans' appetite for Georgia while also telling its unique cultural history.
"My impression is that Georgia needs to become more known in Germany," says Lado Chanturia, the Georgian Ambassador to Germany. "Food and wine are very important to Georgia. This is an excellent way to promote Georgia. "
With the loading of the video data connections to Youtube / Google are established. You can find more information
here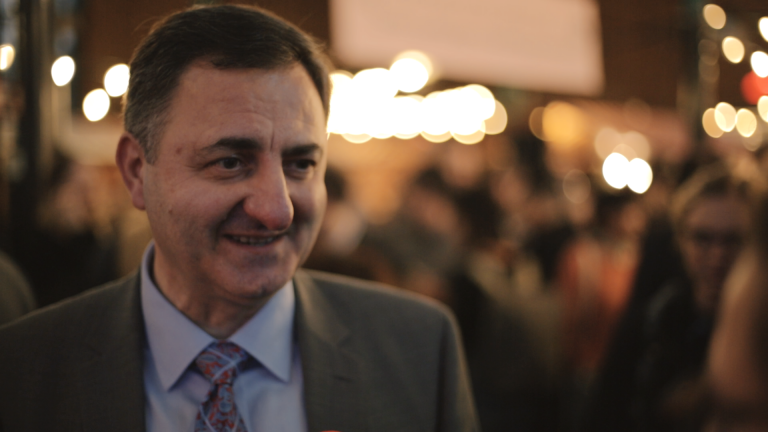 As part of the 'German-Georgian Year 2017', 'Germany - Land of Ideas' has teamed up with Georgian and German partners to launch the 'Georgia Special' program. The idea is to stage Georgia as an experience for all the senses.
"We hope that our event will literally whet people's appetite for Georgia, and further deepen the dialogue and exchange between the two countries long-term. We are particularly pleased to be able to contribute our collective expertise as Germany's location initiative to supporting and accompanying Georgia in presenting the country's merits, particularities and peculiarities in Germany," says Anke Müller, Nation Branding Expert at 'Germany - Land of Ideas'.
With the loading of the video data connections to Youtube / Google are established. You can find more information
here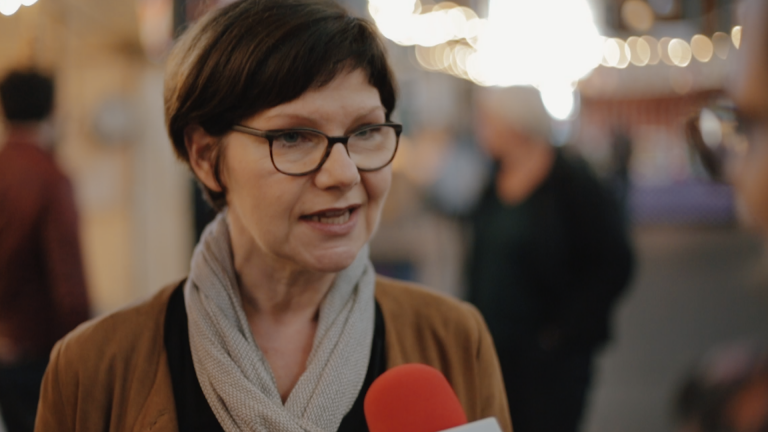 The evening showcase at Streetfood Thursday is just the opening act to a three-day program devoted entirely to Georgian cuisine. There will be ample opportunity for encounters between Germans and Georgians and for intercultural exchanges at Georgian food and market stalls, workshops and cooking classes, as well as wine and cheese tastings.
A keen observer will be able to spot, inside the market hall, many of the Georgian foods captured in bold brushstrokes on the poster at the entrance – and from them glean an idea not only of typical Georgian cuisine, but also of the country's culture, tradition, history and way of life.
The grapes, for instance, represent Georgia's millennia-old wine culture; at the wine booths, natural Georgian wines glow in orange, honey-yellow or amber tones, and Georgian winegrowers will proudly tell of their 8,000-year-old oenological tradition at various wine tastings: Georgia, one of the oldest regions of human settlement, is regarded as the cradle of wine culture. Then as now, natural wine was aged in Qvevris, bulbous clay amphorae buried up to their necks in the Georgian soil – a tradition that has been recognised as a World Heritage by UNESCO since 2013.
With the loading of the video data connections to Youtube / Google are established. You can find more information
here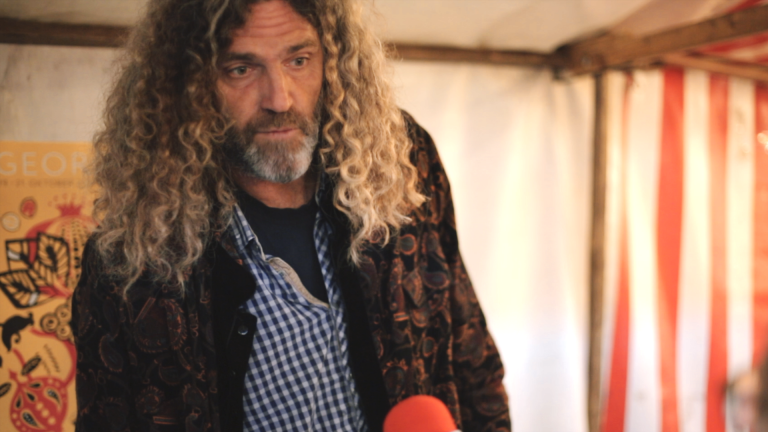 Or take the walnuts: They play a major part in Georgian cuisine, enhancing everything from hearty meat dishes, salads and appetizers, to velvety sauces, compotes and desserts with their special flavour. This weekend, together, Georgian and German children learn to make Georgian sweets from the nuts in a joint cooking class. The walnuts are strung like pearls onto twine, pulled through hot grape must, and then hung up to dry for the popular Georgian Candy Churchkhela. It once served soldiers as nutritious travel provisions, Georgian chef Magda tells us, and today Churchkhela is an indispensable element in the décor of Georgian market stalls.
To sample one's way through the various food stalls in the Markthalle Neun is to discover the regional variety of Georgian cuisine: the juicy dumplings known as khinkali, Georgia's answer to ravioli; Satsivi, chicken in hearty walnut sauce, seasoned with saffron, coriander and cinnamon; tarragon and pear lemonade; and of course khachapuri, a savoury cheese bread with various fillings, often topped with a fried egg. Visitors will quickly realize that they are experiencing one of the world's most diverse cuisines. Not just thanks to the climate and fertile soil, which lets lemons, pomegranates, tea, fenugreek and wild asparagus thrive in a country no larger than Bavaria – but also due to the many different cultural influences – Persian, Mongolian and Turkish – that have shaped Georgia's menu over the centuries.
It will come as no surprise that the inhabitants of this country, which once lay along the historic Silk Road, have a penchant for hospitality and cordiality. "Every guest is a gift from God" is a well-known proverb and one that Georgians live by.
"When people get to know each other, when they try what the other eats and drinks, and understand their culture and social background, then true friendship arises between countries," says Michael Siebert, Head of the South Caucasus and Central Asia Department at the Foreign Office.
With the loading of the video data connections to Youtube / Google are established. You can find more information
here
And so in the coming days, in Markthalle Neun, the foundations will be laid for guests and hosts to become friends.