Success story CleverShuttle:
How three young founders got their idea on the road
With the loading of the video data connections to Youtube / Google are established. You can find more information
here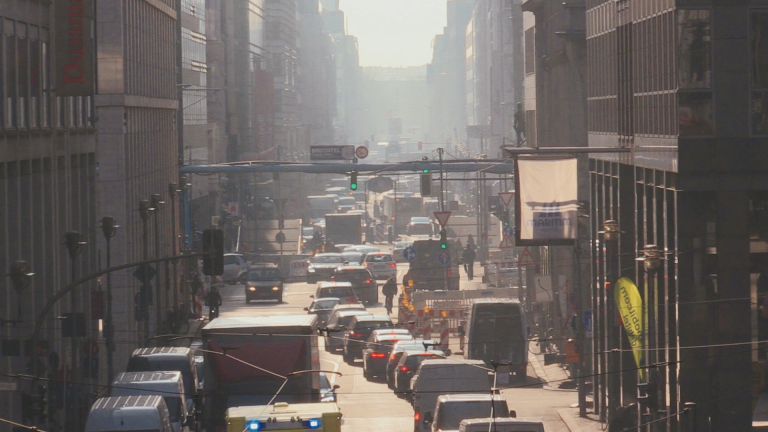 Founder Jan Hofmann had the idea for the start-up on a rainy summer day nearly five years ago. At that time he travelled quite a lot for his old job, and wanted to get home as quickly and easily as possible after a long train journey. What alternative is there for arriving more comfortably than by public transport, but less expensively than by taxi – while remaining as environmentally friendly as possible? His idea: a sustainable door-to-door chauffeur service. The next evening he presented it to his school friends at a barbecue. Bruno Ginnuth and Slava Tschurilin were immediately won over by the idea. But there was still a long way to go before it became a reality.
With the loading of the video data connections to Youtube / Google are established. You can find more information
here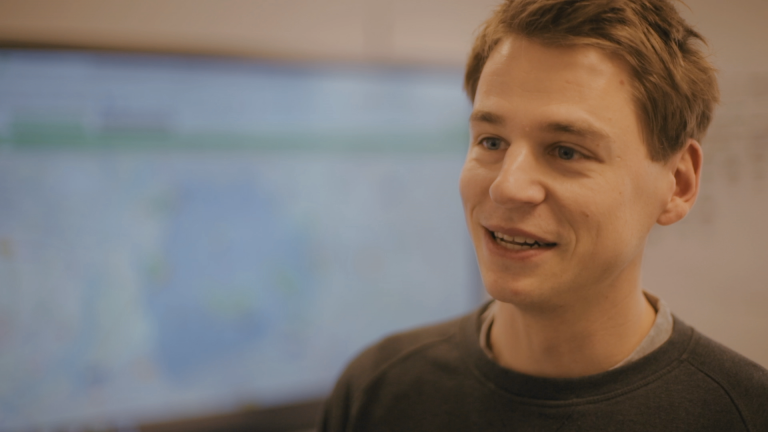 Change of scene. It is a Thursday afternoon and we are outside an underground car park just a few steps away from Potsdamer Platz in Berlin. Nearly by the minute, green-and-white CleverShuttles depart from here to every corner of the German capital. They transport passengers quickly from east to west and from north to south on a daily basis. "Our relocation was long overdue," says Bruno Ginnuth, who moved into a larger office here a few months ago with his team which now numbers close to 50 people. More space for new employees and more vehicles had become necessary.
And above all, the shuttles needed a starting point from which they could easily reach any place in the capital. Because the market for rental cars in Germany is heavily regulated, the shuttles always have to return to their 'anchorage' after each journey. It wasn't easy to reconcile the new type of mobility with Germany's Passenger Transport Act. The founding team kept having to explain to the municipalities and public authorities what they actually wanted: shared mobility at fair prices with full-time drivers, with low CO2 emissions, and silent. Bruno Ginnuth tells us what challenges the three founders had to master:
With the loading of the video data connections to Youtube / Google are established. You can find more information
here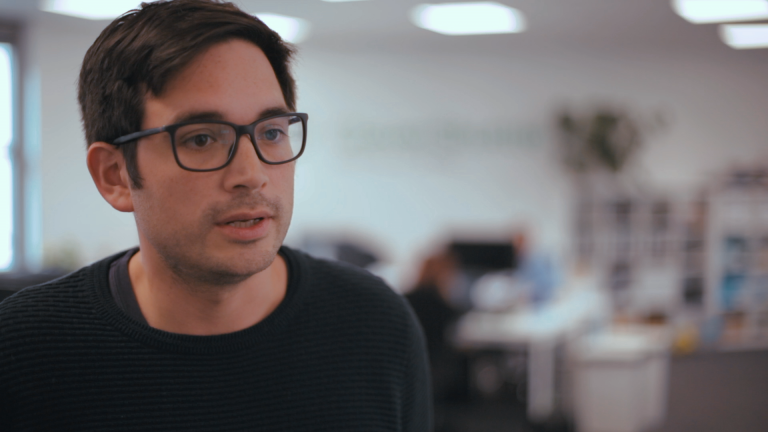 To make a difference with their start-up and contribute to better mobility in cities - this is what motivates the three founders in their everyday life as well. It motivates them to be able to create their own working environment in which they can put their self-set goals into action. In contrast to their previous working lives, when the three were still employed by large corporations, they are now responsible for everything themselves - when things go well, but also when they don't go so well. Any helpful pointers for others who want to start a business?
"Ideas are a dime a dozen. The concept is also very important. But in the end, the most important thing is to actually get yourself to put the whole thing into action," says Bruno Ginnuth.
Fairness and sustainability are particularly important to the founders. For the vehicles, they rely exclusively on alternative drives. The vehicle fleet consists of eco-friendly electric and hydrogen vehicles as well as plug-in hybrids. The first-ever exclusively hydrogen-powered fleet has been on the road in Hamburg since autumn 2017. "Nowhere else in the world does this exist, and we want to continue to propagate this green DNA," says Jan Hofmann, adding with a view to other international providers: "We want to be the good guys. Fairness also includes providing good working conditions and paying employees fair wages."
The secret behind the Ridesharing app is its algorithm. It was developed by Slava Tschurilin, the technician of the founding team. "Ridesharing is a mathematical model," he explains. Thanks to the algorithm, travellers with similar route requirements are grouped into car pools and transported together. One quickly sees how Tschurilin lights up when he talks about his life as a founder. He remembers how the challenges of everyday start-up life have changed over time:
With the loading of the video data connections to Youtube / Google are established. You can find more information
here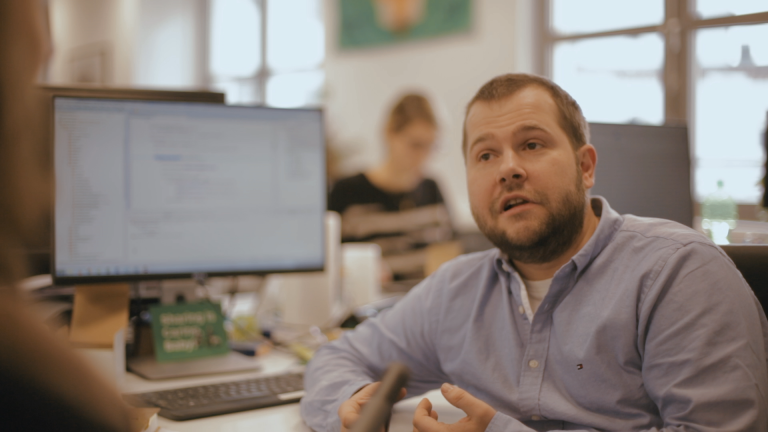 Deutsche Bahn recognized early on that even big companies can learn from the spirit of young founders. It became an investor in 2015, before there were any CleverShuttles on the road. On one side, a traditional conglomerate with long-established structures, and on the other a young and dynamic start-up: How does that fit together? We go looking for an answer from Manuel Gerres, Managing Director of Deutsche Bahn Digital Ventures GmbH, in a coworking space overlooking Berlin's rooftops. The Deutsche Bahn subsidiary systematically promotes start-ups in the mobility sector, and it does so in a working environment that resembles that of young start-ups.
Gerres explains that Deutsche Bahn is interested in being able to look deeper into the DNA of start-ups, and to carry the newly acquired knowledge into its own organisation: "We are interested in how they structure their teams, how they work with them – so that we can learn from their speed. In his eyes, CleverShuttle is a nice example of how dynamic young people set out to reposition an entire market. Deutsche Bahn wants to include the CleverShuttle service in its own mobility offer soon, so that it can transport passengers all the way to their doorsteps, including the 'last mile.'
With the loading of the video data connections to Youtube / Google are established. You can find more information
here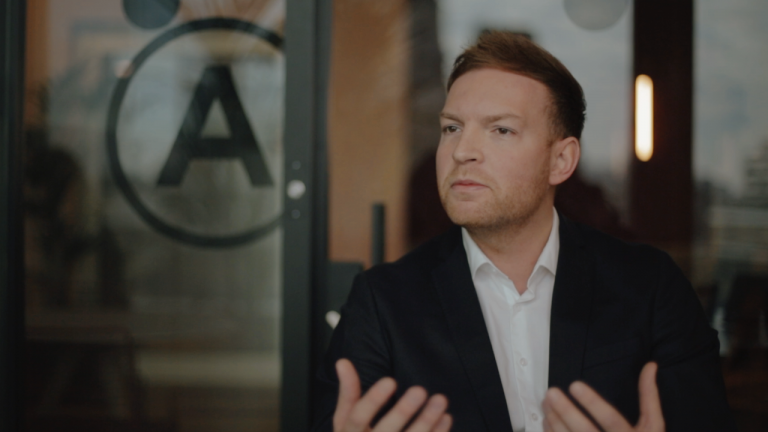 The start-up's idea is right in line with the spirit of the times. A higher ride-sharing rate on the roads means fewer cars, less noise, and less CO2 pollution. After Berlin, Leipzig, Hamburg and Munich, CleverShuttles will soon be on the road in other German cities as well. Frankfurt am Main, Stuttgart and Dresden are already planned, and more places will gradually follow. Founders Bruno Ginnuth, Jan Hofmann and Slava Tschurilin are pleased that the start-up is growing – along with the idea.
With their sustainable shuttle service, the three founders want to do their part for making our cities more liveable. In 2016, the German Federal Ministry of Transport and Digital Infrastructure and "Germany - Land of Ideas" honoured their efforts with the German Mobility Prize.