Data are becoming increasingly important in traffic planning, including and especially in cycling. Innovative approaches to obtaining such data give us more possibilities – in planning, but also in our line of argument with the public authorities, government and the general public.
Gernot Steinberg, Dipl.-Ing., Managing Director, Planersocietät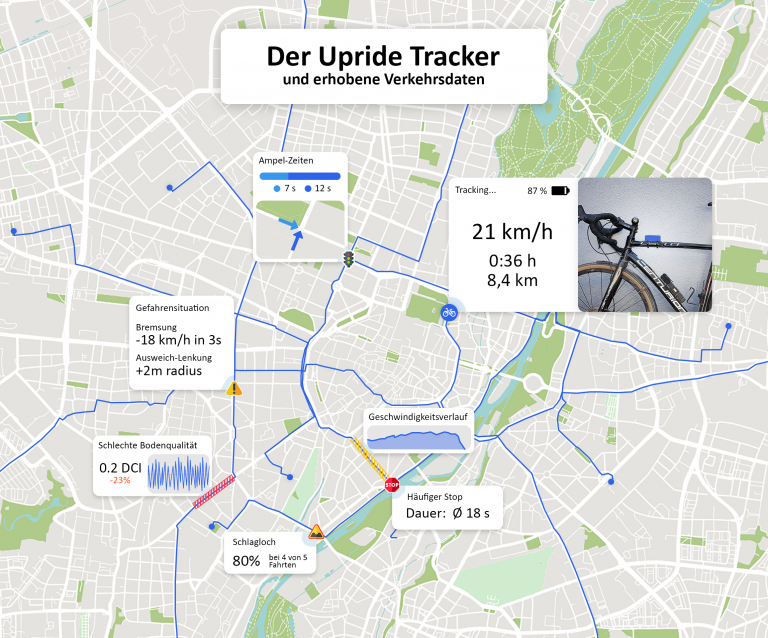 To plan and maintain urban cycle tracks efficiently, a robust and reliable set of data is indispensable. In order to fill in the existing gaps in this set of data, the initiators of Upride have set themselves the following objective: By means of a cycling tracker developed specifically for this purpose, various data on traffic flow and identified danger spots, such as potholes or spots where swerve-to-avoid manoeuvres frequently occur, are collected.
In contrast to an app, the use of the tracker offers several advantages: On the one hand, it provides a maximum of user comfort for the cyclist and user because it automatically recognizes when a trip is started and ended. In comparison to other app solutions, this ensures permanent use and also includes the collection of data on relevant short distance trips. On the other hand, the tracker does not record any personal data as they are not relevant to data evaluation and traffic planning. It only focuses on the aspect of how safely, easily and fast a trip was completed.
With all of these data and results collected in a single process, planners are not only presented with a tool for developing and improving infrastructure in a targeted manner. It also provides a factual basis of argumentation that will help to bring more objectivity to the often emotional debate in this sector.
Good to know
betternotstealmybike UG was established in 2018 after a hackathon.
The partners of the project are Digital Hub Mobility in Munich as well as the City of Munich.
The motto of the founders is: "Rather put your butt up in the air than your foot down to the floor."
Interview with Steffen Linßen, CEO, betternotstealmybike UG
What challenges did you face during implementation?
For a young enterprise, the cooperation with local authorities is probably one of the greatest challenges. The procurement rules offer barely a chance to young start-ups to become involved in public projects. To make things worse, there is a considerable nationwide shortage of human and financial resources in cycling planning. However, we are slowly witnessing a change in thinking in the cities. Nevertheless, we consider it important to continue to fight for our vision.
Where do you see your project in five years?
In five years we see ourselves as an important provider of cycle traffic data and their analysis. At the same time, however, we also want to be a service provider for the local authorities, collecting cycle traffic data together with the public. By doing so, we want to support local authorities and planners in planning new infrastructure fairly but also transparently and efficiently and to provide, with our data, objective arguments for this planning.
What is your advice for others who have a good idea and want to translate it into action?
In short: You can do it! In Germany, there are so many different possibilities with regard to funding and knowledge promotion. If you believe in your idea and stand up for it, you will get the support you need. Every day, you get to know new and exciting things and people and you grow with your project. And there is another aspect: It's just so much fun to work towards a joint objective with a motivated team, to see the progress, to learn from mistakes and to discover something new every day.