Energy-efficient and collaborative logistics for owner-run businesses in every city/neighbourhood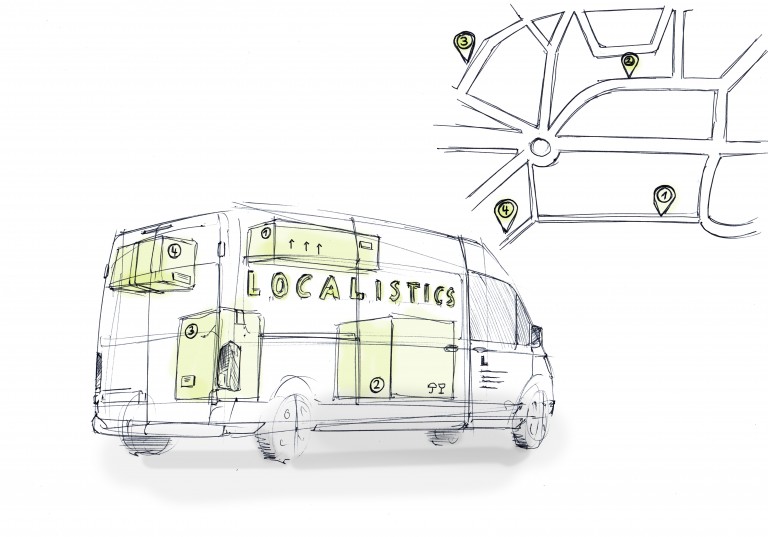 The idea
With joint, intelligent logistics processes, retailers and business people can not only lower their costs but also reduce emissions, thus contributing to a clean and future-proof city.
Together with localistics, we have developed software and a platform enabling small and medium-sized enterprises in a city to jointly plan and perform required deliveries in an affordable and energy-efficient way. The goal is to encourage more and more local businesses over time to use this platform and to connect with each other.
We believe that these are the questions of our time: How can we enable businesses to make commercial use of available modern technologies? How can local businesses deal with price pressure caused by large corporations with optimized supply chains in a future-proof way? And how can this be an advantage for the whole of society? Our strategy of designing daily delivery routes within a city or a neighbourhood in an intelligent way provides answers to all these and many more questions. For this to happen, retailers not only use their own vehicles but share a common vehicle pool, which ideally consists of electric or hydrogen-powered vehicles, and the resulting delivery routes have to be intelligently calculated. The objective is to collaboratively generate benefit for the customer in the major economic sector of logistics using sharing economy principles. We want to be a modern interchange between retailers and delivery companies and uncomplicatedly demonstrate to them how to jointly lower their costs, unlock wealth creation potential and quickly and transparently track all processes live via one single platform.
Motivation behind the idea
With our platform, we want to empower independent, locally based businesses to intelligently link up with one another in order to safeguard their customer relations and thus, in the long term, also their locations while making a contribution to clean, liveable cities.
Biographical sketch
Isabel Pieper is a business management student with a focus on international management at the Technical University of Lübeck. Since 2020, she has worked as a student trainee in the business development unit of TraveKom GmbH, a subsidiary of Lübeck Municipal Utilities. From 2014 to 2019, she was a student trainee in the wine business of her family.
Tim-Lukas Schnell is studying media information technology at Lübeck University. Since 2020, he has worked as a student trainee for web development in the innovation and cooperation management unit of TraveKom GmbH. From 2016 to 2018, he worked as a web development student trainee in e-commerce.
We think that collaboration is the future of our coexistence – in society as well as in the private sector. If the owner-run fashion boutique, the wine dealer around the corner and the office equipment manufacturer based in the business park work together, they will not only be able to survive in the face of online trade but will also build the core of the environmentally friendly and lively neighbourhoods of tomorrow, together with the range of cultural attractions.
Isabel Pieper und Tim-Lukas Schnell